A while back I posted about a drawing that came to me from my grandparents. It hung in their dining room/library. As a kid I adored it and since it was hanging so far up on the wall, was especially delighted after I finally got glasses, and discovered all the details – the flowers, bugs, and little goodies hidden in the piece.
I am convinced that my drawing is a rendering of an actual artifact. The sketch probably dates to the 1920s or 1930s at the latest. The artifact itself is clearly a stumpwork piece of some type – a style dating to the 17th century. Possibly a mirror, possibly a bookbinding. Possibly a combo of motifs from more than one piece. But I don't think it was just dreamed up by the artist.
I've gone looking for the thing several times. I've hunted in on-line photo collections and books cataloging famous embroidery collections. I've paid special attention to items in New York City area museums because I have a hunch that "art student selling on the street" was more in my Brooklyn dwelling grandparents' budget than was purchasing from a gallery. And an art student might well have sketched something seen on display in a local museum.
I even read about a collection of stumpwork pieces being acquired by the Brooklyn Museum in the 1920s, so I wrote to the curators and asked if it was still in accession, and if anyone dealing with it might recognize my piece. Sadly, not. But they were very gracious and wished me luck in my hunt.
Recently I was part of an on-line discussion among historical needlework enthusiasts, and posted my (not very good) photo. Several folks there requested higher resolution pix. So in the hope that I can enlist others in my hunt, or provide inspiration to someone wanting to stitch their own stumpwork frame, I post some here.
Bottom center – note the shark-like fish, and detail that looks very much like the artist was trying to depict actual stitching. Hills with an ocean or lake in front are very common center bottom treatments on mirror frames.
Lower left corner – the pony, plus a dove(?), a snake, and a centipede. And flowers. There are always flowers.
Lower right corner – the camel, and a beetle. That hump looks like turkey work to me. Also what might be a partial signature at the left of this detail shot – a little roundel that might be CCS or HS, or HCS.
Upper left corner – the leopard, with a caterpillar a bird, and a worm. Leopards (and lions) are common corner residents.
Upper right corner – the moose-nosed stag, with the worm and a two small snails. (Hmm… Maybe this is why I often include snails in my own work.) Stags show up often on similar pieces, too.
Center top – buildings, plus fruits and birds, below. Buildings, perhaps visions of Jerusalem or the city of heaven are also a standard feature of stumpwork mirror frames.
Left edge – Now this is where it gets complicated. On mirror frames there is often a couple – a king on one side and a queen on the other. Family folklore (with or without any reason) claims that in this drawing the center figure, a queen, is in fact Queen Esther, and this guy on the edge with the wide collar is King Ahasuerus. Whoever he is, he has bugs, a bird and a bunny to keep him company.
Right edge – If the Esther interpretation is correct, this would have to be Mordecai. Not quite as sumptuously robed as the King, but escorted by a bird, grapes, and another caterpillar. (Haman, being the bad guy gets no depiction.)
Center – Finally we get to Queen Esther and her attendant. And her own bunny, worm, and bugs, plus even more lovely flowers. From what I've seen it's unusual for just a queen to be shown alone in these English stumpwork pieces – more often a couple was shown, usually in homage to the sitting monarchs.
So there we have it. If you look closely at these pix you can begin to see stitch detail – a raised braided stitch of some type as the heavy outline, the mentioned turkey work on the hump of the camel, a three-D thrust on the parasol, satin stitch and shading on some of the flowers and fruits (either to indicate depth or stitches – I can't tell).
So now the APB is truly issued. Seen these characters, or pieces like this one? Let me know. If the link is accessible, I'll post it here.

Adapting one of these pix for your own raised work piece? Let me know! I'd be happy to post that, too. (I think the corner animals in particular would make lovely tops for small, round boxes).
Museum Examples
Metropolitan Museum, Mirror Frame, Third quarter 17th century, British. Accession 64.101.1332: Leopard at lower right, pond or sea with fish at bottom, couple left and right.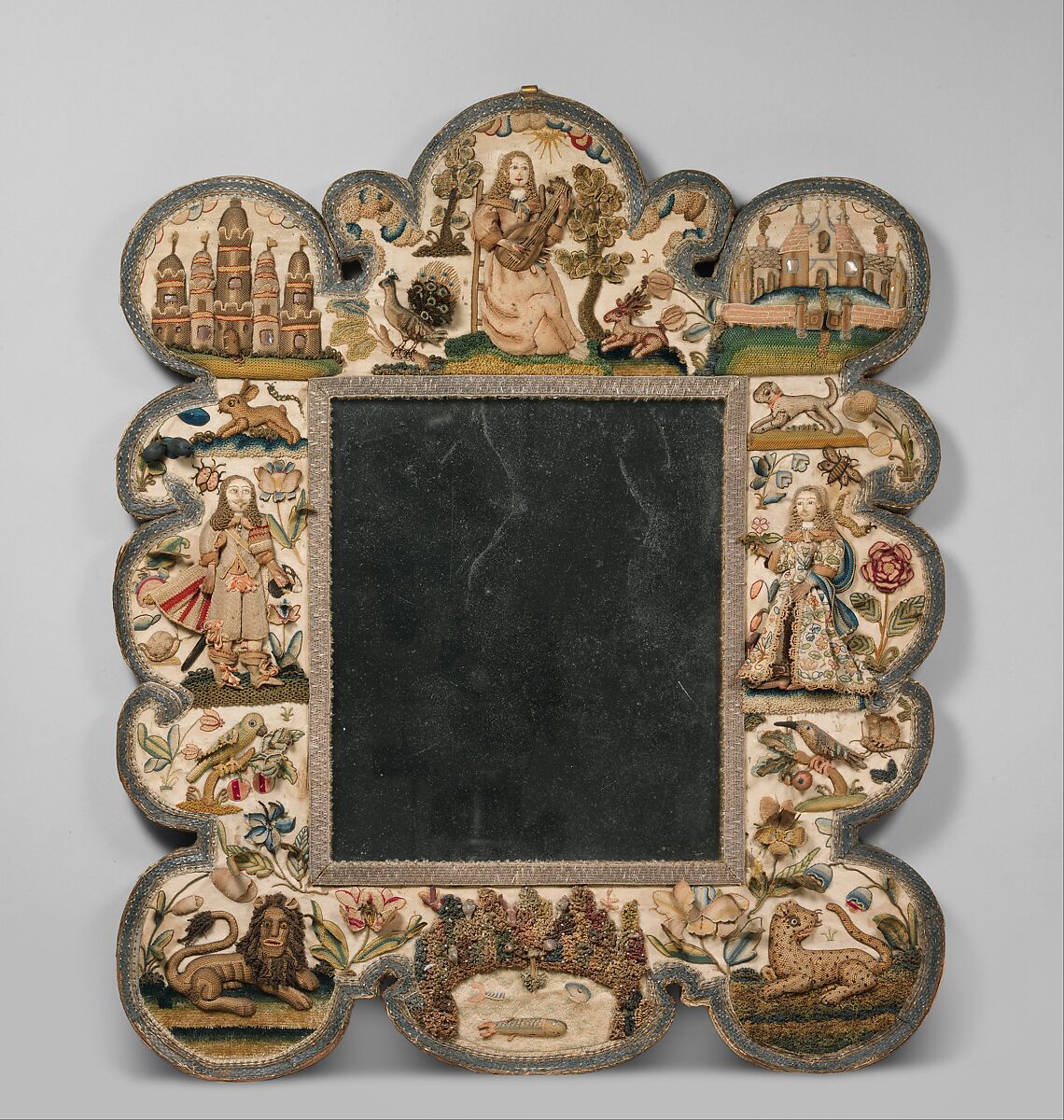 Victoria & Albert Museum, Mirror Frame, 1660-1680, British. Accession 351-1866. Lion and unicorn in lower corners, couple at left and right, pond with mountains and fish at bottom.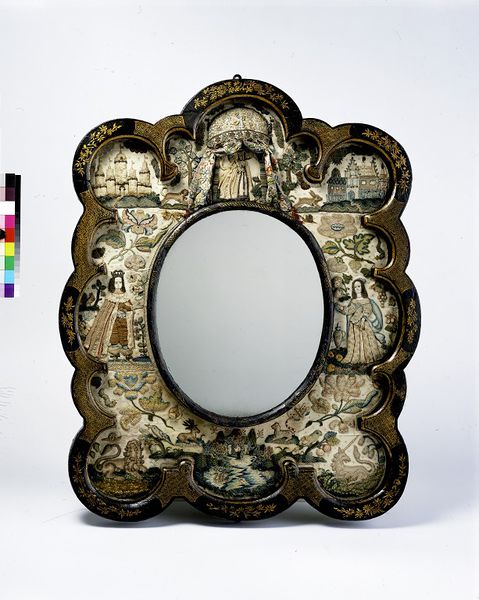 Drawing presented on Lizapalooza/Elizabethancostume.net's blog (photo borrowed from that site, I hope they forgive me).